We can engrave on most materials, or substrates, such as Wood & Metal, Glass & Plastic, Stone, Tile & Brick, and many man-made or natural fabrics like cotton, leather or even vinyl.
This part of our business is focused on helping individuals, businesses, or hobby related clubs and associations with thier etching and cutting needs. Groups that can benefit from our services include woodturning clubs, quilting guilds, woodworking organiztions, stamping and scrapbooking groups, graphic designers, hobbyists, and many others...
What kinds of services can we provide for your group?
Woodworking Organizations

Kits for projects
Membership nametags
Signature stamps for finished pieces

Quilting & Textile Guilds

Quilt block applique kits
Custom Quilting Rulers
Signature tags for completed projects

Stamping & Scrapbooking

Stencils
Custom stamps
Applique patterns and designs

Companies

Custom Awards
Specialty Signs
Custom Labels
Nameplates for Desks

Graphics Designers and Hobbyists

Customization of MP3 Players & Laptops
Advertising of skills and services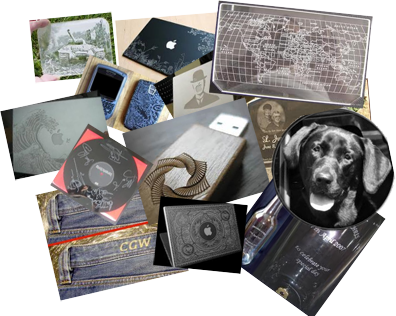 These are only some of the posibilities. We strive to take your vision and make it reality! Please
contact
us to assist you with your needs.
Be sure to look thru our
gallery
to see examples of the work we have done.
Our motto is "We Etch It". If you have something you need engraved and its not on our site, contact us and we will be happy to discuss your needs with you.